Turning from being a complainer into a praiser (Family & Culture Pt. 6) – Episode 40
Do you ever feel like you open your mouth and out comes complaints? Do you feel like you too often dwell on the negative and want to focus more on the positive? Today Jami will dive into 6 ways we can turn from being a complainer into a praiser! Listen in:
Listen to the Podcast:

You can find all the links and notes for this episode below!

Right click here and save-as to download this episode to your computer.
Links & Resources:
Talk often comes out of what is already in our hearts. —> What is our internal monolog doing?
We often get stuck in a rut of complaining (even when it's not out loud).
Focus on GRATITUDE and THANKSGIVING
"And we urge you, brothers, admonish the idle, encourage the fainthearted, help the weak, be patient with them all. See that no one repays anyone evil for evil, but always seek to do good to one another and to everyone. Rejoice always, pray without ceasing, give thanks in all circumstances; for this is the will of God in Christ Jesus for you." – 1 Thess 5: 14-18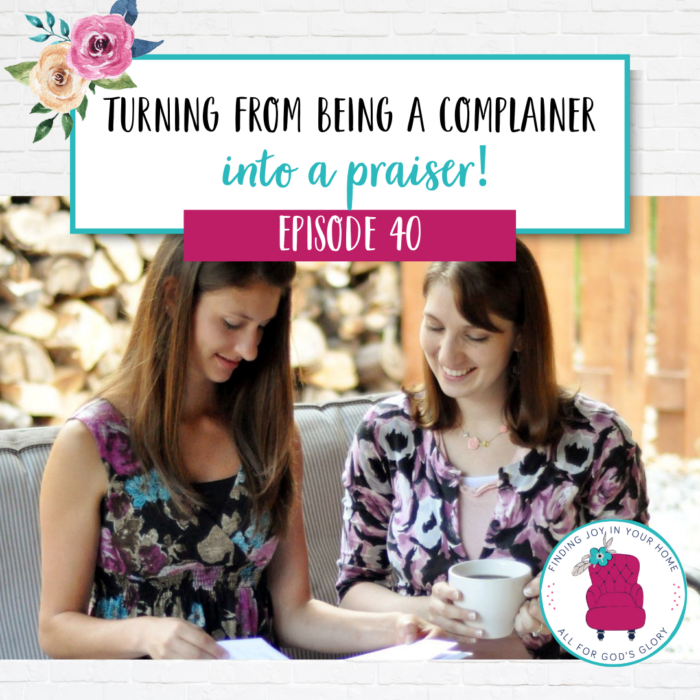 4. When in conversation, THINK about some things you can say beforehand, instead of letting complaints just come out. THINK through some things you can specifically say you are thankful for, share something interesting you hear this week, etc.
5. In a world that sometimes feel crazy, learn to meditate and talk about different subjects.
6. Learn how to LISTEN better in conversations.
"Know this, my beloved brothers: let every person be quick to hear, slow to speak, slow to anger;" – James 1:19
For further study on this topic, I have a few recommendations.
Trusting God by Jerry Bridges if your complaining comes out of fear and anxiety
Learning Contentment by Nancy Wilson
Comparison Girl by Shannon Popkin
Past podcast episodes: