5 Verses to Memorize for When You Don't Feel Motivated
By Katie Bennett of Embracing a Simpler Life, Contributing Writer
My journey to becoming a gospel-centered homemaker has been a long and rocky road. And it's far from over.
You see, my natural-born tendency is to be idle and lazy. Disorder hasn't always bothered me as much as, perhaps, it should have.
Growing up, my room was messy as could be, and many of the concepts of a clean, well-run home were lost on me, despite my mother's best efforts.
Today, as a woman with a home and family of my own, I see the value and godliness of keeping it in order. This not only serves my family, providing a higher quality of life, but it also opens the door to abundant hospitality.
To say I've had to dig deep for the motivation to work hard at home would be an understatement.
In fact, I haven't found that motivation internally at all.
Instead my motivation has come through memorizing and meditating on God's words.
There are a few Bible verses that have stood out in my mind as being particularly helpful on this journey. There are the following:
5 Verses for When You Don't Feel Motivated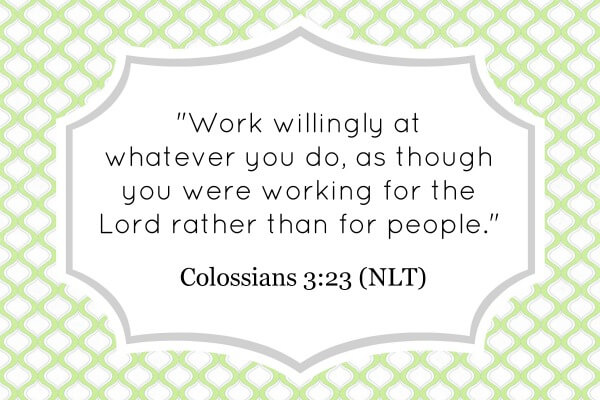 Colossians 3:23
This is the verse I come back to more than any other when struggling for motivation to work hard in my home.
Taking a step back and gaining this broader perspective motivates me like nothing else.
I can either waste the present moment by giving in to my sinful, idle nature, or I can work hard for God's glory and pleasure and make it count. By doing every task unto God, doing things like folding laundry, washing dishes, and scrubbing toilets can become holy activities.
Titus 2:4-5
Working diligently at home is undeniably tied to self-control. We can make endless excuses for ourselves, or we can discipline our lives in such a way that the word of God may be praised as a result. We can put the interests of our friends and family above our own by working at home even when we don't particularly want to.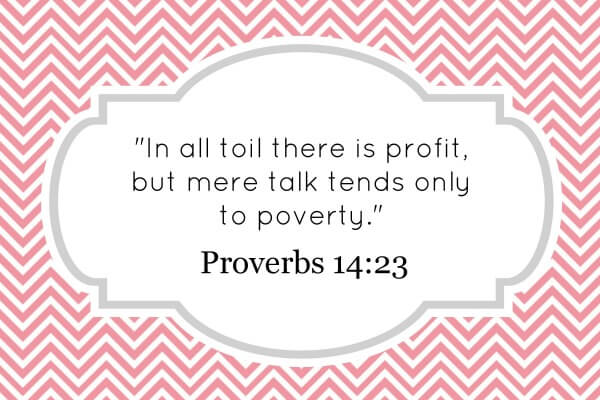 Proverbs 14:23
This verse articulates the inherent logic of work, something of which my flesh needs frequent reminding.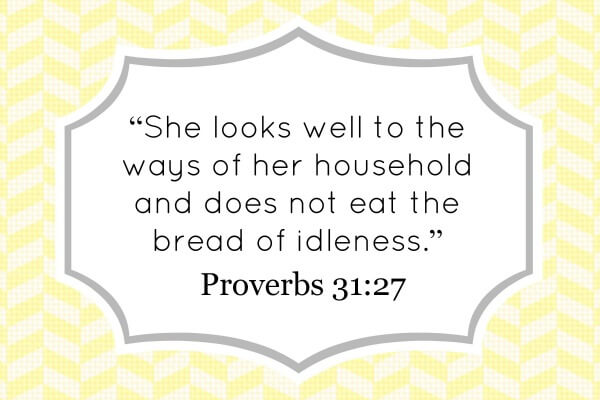 Proverbs 31:27
The proverbs 31 woman has taught me much about the value and beauty of hard work. She is truly wise and dignified, and within these character traits there is no room for laziness. She is so productive that her own husband and children rise to bless her.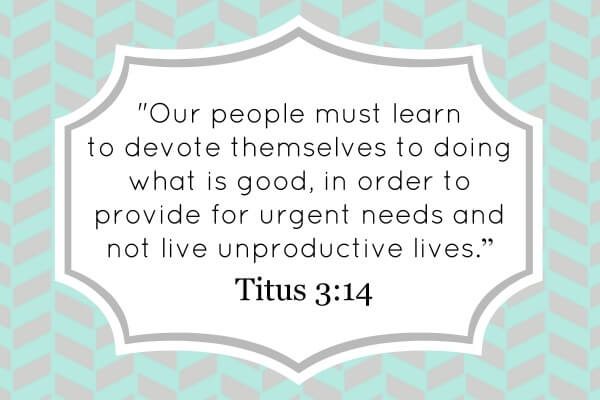 Titus 3:14
Our lives are made up of moments, strung together by time. This moment must be seized, and our lives disciplined today, for these moments to compile into truly productive wholes.
No woman should be more motivated to maintain her home than those who identify themselves as the Body of Christ. Our mission in this world is serious and urgent. There is not time for laziness!
Do you, like me, struggle with motivation to work hard at home?
If so, please take the first step to choose and memorize one or more of the verses listed above this week.
To find free printable versions of these verse cards, click here.
Hiding God's word in our hearts, and submitting to His guidance, has power to bear unimaginable fruit and bring unimaginable change like nothing else.
What's your favorite verse to meditate on while doing housework or chores?
If you like what you see here, please LIKE my Facebook page!
5 Keys to Planning a Successful Day

Free PDF Guide & Training Video!

If you want to take this concept further and jump into how you can plan for a successful day (and what that even means), then I want to invite you to sign up for my FREE video and PDF guide 5 Keys to Planning a Successful Day.

Sign up and you can start going through it right away! Join me to chat about how, with a few simple tips, we can start living with more intention. It might seem overwhelming to work on being more intentional and purposeful in your schedules and to-do list. But in reality, it takes just a few minutes to begin transforming your routines with 5 simple steps…