Interview with Donald Whitney on Spiritual Disciplines – Hf #66
Years ago, when Jason and I were first married, I was browsing through a thrift store on my lunch break. I was casually looking through the books when a well loved book caught my attention.
The title was Spiritual Disciplines for the Christian Life. Now normally I don't just pick up any old book that labels itself "Christian." But this particular book had endorsements on the back from some pastors I greatly respected. So I snagged it for $2.00 and began reading.
And the result has been one of the biggest impacts on my spiritual life ever. I have since gone on to read his newer books Praying the Bible and Family Worship. Since then, Donald Whitney has become one of my favorite authors and I have shared his books and wisdom here in my ministry countless times. And this weekend, I got the chance to meet him.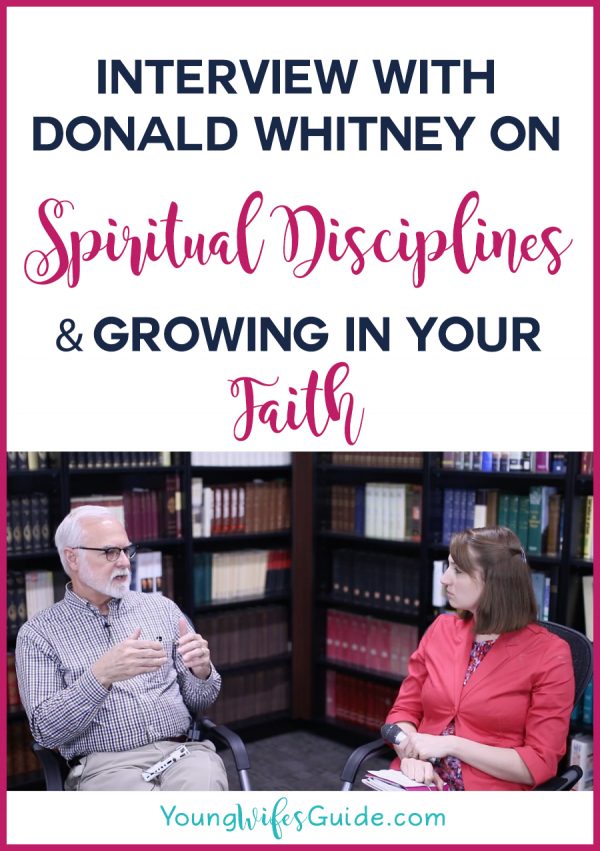 Listen to the Podcast:

We also recorded this blog post as an audio podcast. If you want to listen in instead of reading, click play below or do a combination of both

And don't forget to subscribe to the podcast in iTunes.

Right click here and save-as to download this episode to your computer.
This past weekend we had the privilege of hosting a conference at our church where Donald Whitney spoke. He taught sessions on how to cultivate a deeper prayer life and Bible study life. The conference was incredible!
And after the conference, I got 15 amazing minutes to interview him. I had some burning questions about how to practice Spiritual Disciplines when you are super strapped for time and feel like you can't add anything else to your to-do list (Anyone else feel like this??). You can go up and listen to the full audio podcast or watch the video interview below.
Watch the interview here and don't forget to subscribe to my YouTube channel for future videos.
What Are Spiritual Disciplines?
Now that I have become so familiar with his books and ministry, I use the term "Spiritual Disciplines" a lot. But I understand it can be a little strange if you are not familiar with that wording.
"The Spiritual Disciplines are those practices found in Scripture that promote spiritual growth among believers in the gospel of Jesus Christ. They are the habits of devotion and experiential Christianity that have been practiced by the people of God since biblical times." – Spiritual Disciplines for the Christian Life, page 4
Basically, Spiritual Disciplines are these things we can do to promote spiritual growth and grow closer to God such as fasting, journaling, Scripture memorization, and chief among them: Bible reading & prayer. Throughout the last two years, the emphasis I've placed on Spiritual Disciplines in my own life and on my blog has been on Bible reading and prayer as these are the two most important disciplines.
What do we do when we have NO time?
One of the biggest struggles, as a mom of five young kids who is busy managing a household, is finding the time to read and pray. And when I do manage to find some time, the struggle comes in trying to stay awake! It can be tough to develop these practices into habits and then to actually get something out of it.
Donald Whitney addresses this so well in the video and gives some incredible encouragement. But I think the thing I took most away from the conference and from speaking to Donald, is that the Spiritual Disciplines do take work and discipline. They are not always easy to cultivate and sometimes it's going to take some sacrifice on my part to make happen.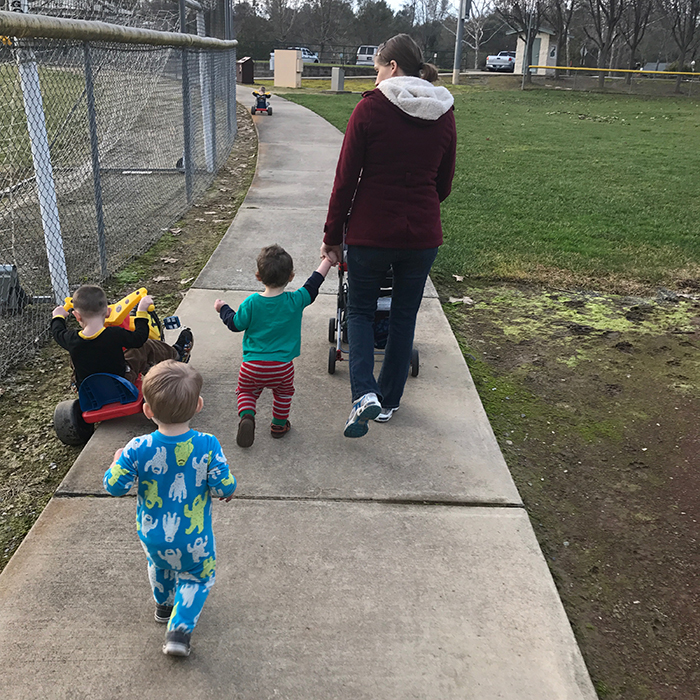 If I am so busy and tired in this season that I can't stay awake to read my Bible, then I can stand by my bed so I won't accidentally fall asleep, and read for 5 minutes. Or play the Bible via my favorite Bible app while I cook breakfast and clean up the dishes.
Start with one single verse
Okay Mama, are you really struggling? Are you feeling defeated and overwhelmed because you just.can't.seem.to.find.the.time? I get it. I've been there. It can be frustrating. But don't give up!
I've heard this advice before, but Donald summarized it so well in the video. If you are struggling to find any time, you are in the thick of raising young babies, your mind is in a fog, and you just can't, then start placing your Bible(s) around the house.
Place a Bible near the kitchen sink, next to the stove, at the diaper changing station, in the bathroom…and each time you pass it, read one verse! Just one verse. Hold on to that verse, meditate upon it. Soak it in and pray and ask God to use those small, tiny pockets of time in His Word!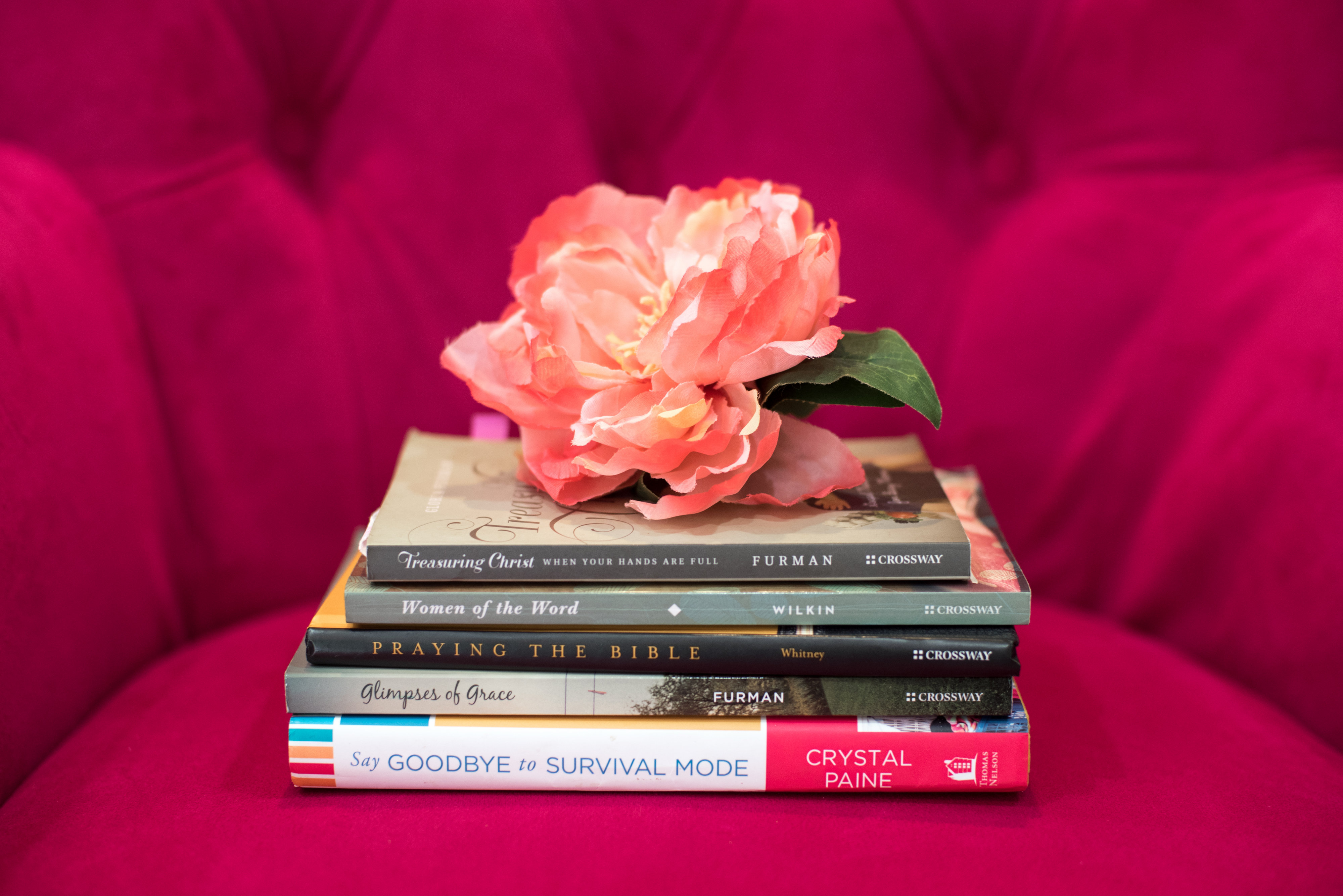 Then slowly, see if you can read two verses as a time. Or listen to the Bible out loud over breakfast or when you are driving in the car.
It's so so easy to be tempted to think "One day, when I'm in an easier season, then I can develop these habits. One day, I will be in God's Word. One day I will pray. But not today. Today I'm too tired. But soon…"
I've had those thoughts. I've been there. But the truth of it is, we can't wait for a future season. "Easier" times may come, but they may not. And if we don't develop the habit now, then it's not going to magically appear.
Yes, one day you will hopefully have some more quiet time, a little more time to devote to Bible study and prayer, but don't wait to develop those habits. Start today. And start with just one single verse if you need to.
Resources for Learning More:
Are you ready? I've got a lot of great resources for you today for digging in deeper!
Podcasts & Audio to Listen to:
Written Resources:
Jelly Telly Easter!
The sponsor for this week's podcast episode is one of my very favorite apps: Jelly Telly! Easter is just one month away and now's the time to start planning intentionally for sharing with your kids the true meaning of the holiday. My very favorite website for Bible-based kids shows, Jelly Telly, has some fantastic Easter resources for you this year!
(By the way, if you want to try out Jelly Telly FREE for one week AND get a 10 page Jesus coloring book download then use coupon code: HMFCOLOR at checkout! Then you can try it out and see if it's right for your family. I know you are going to love it!)
What I'm really excited about, is Jelly Telly's Easter Gift Guide. They've got Easter books, stuffed animals, and resurrection eggs! Order now for stuffers for your Easter baskets and fun tools for engaging your kids and teaching them all about Jesus this Easter. Don't let Easter sneak up on you this year!
Special Bonus: Through March 31st, Jelly Telly is offering an incredible bonus for my readers. When you sign up or upgrade to an annual subscription ($49.99) you will get their Easter book for FREE! And make sure to use coupon code: HFMCOLOR at checkout to try out free for a week!