2 Peter 3:18 Computer & Phone Background (FREE!)
Can you believe June is here already and Summer is coming full force? We've got a lot of things packed into this summer, it's going to be a lot of work but also a lot of things to look forward to.
Amidst all the busyness, I want to make sure I'm not neglecting my relationship with the Lord. Even in this full fun summer, I want to steal away moments to quiet my heart and focus on Jesus.
And one small easy way to do that is by setting Scripture on the background of your phone and/or computer – since you glance at your phone so many times each day anyway!
Introducing this month's free scripture background for your computer, phone, and tablet!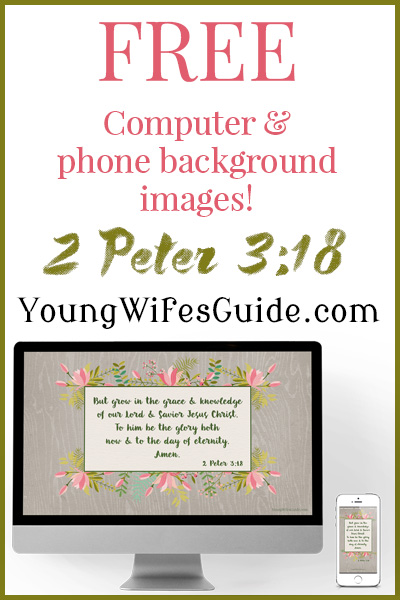 Every month of 2016, I've created a new Scripture background image for you! Want to memorize another verse? Check out my other background images: (And don't worry, these are not year specific. Feel free to use them into 2017 and beyond!)
Join me this month in memorizing 2 Peter 3:18:
But grow in the grace and knowledge of our Lord and Savior Jesus Christ. To him be the glory both now and to the day of eternity. Amen.
Just sign up below and you will get instant access to the download (even if you are already a subscriber)!
All Scripture is quoted from the English Standard Version (ESV) translation.
Download Here:
Click the image to get access to download each image:
Thanks for following along! Leave a comment and let me know if you've downloaded the background and snap a shot on instagram! Tag me @jamibalmet