Psalm 136:26 Computer & Phone Background Images
November is naturally a great time to be talking about giving thanks to God in all things! And hopefully it's a theme you can carry into 2017 and beyond!
The background image I have for you this month is perfect and so beautiful. See below for how to download for free for your computer, phone, and/or tablet.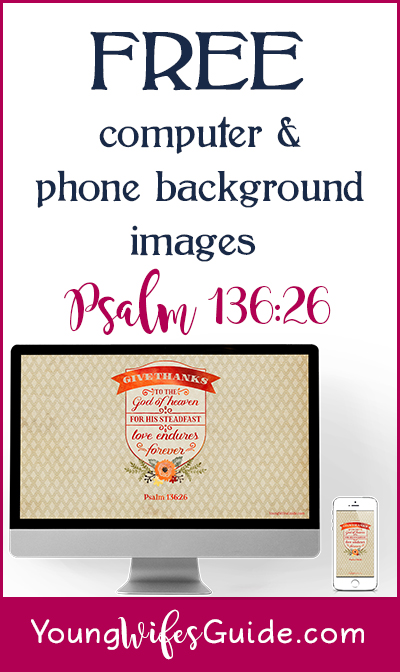 Every month of 2016, I've created a new Scripture background image for you! Want to memorize another verse? Check out my other background images: (And don't worry, these are not year specific. Feel free to use them into 2017 and beyond!)
Join me this month in memorizing Psalm 136:26:
Give thanks to the God of heaven, for his steadfast love endures forever.
Just sign up below and you will get instant access to the download (even if you are already a subscriber)!
All Scripture is quoted from the English Standard Version (ESV) translation.
Download Here:
Click the image to get access to download each image: