Philippians 4:6-7 Computer & Phone Background Images
Is it really September already? This month kicks off my favorite time of the year. September through the New Year is my absolute favorite and I love soaking up the Fall and Christmas sights, sounds, and tastes!
So that means I will be off soon to get my first Pumpkin Spice Latte of the season and we already have our pumpkin pie candle burning. Let's ring in this new season with a fun Fall background image that just so happens to be one of my very favorite passages as well!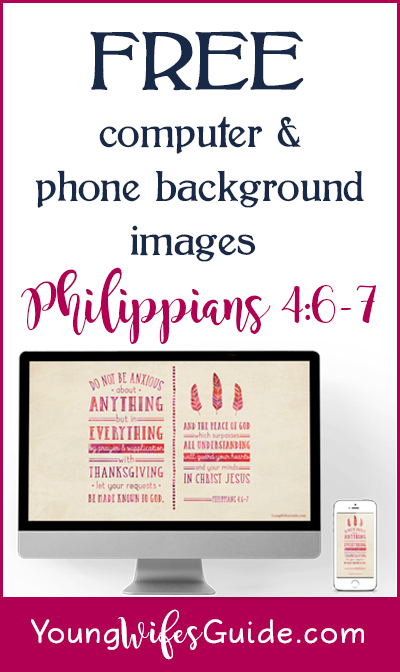 Every month of 2016, I've created a new Scripture background image for you! Want to memorize another verse? Check out my other background images: (And don't worry, these are not year specific. Feel free to use them into 2017 and beyond!)
Join me this month in memorizing Philippians 4:6-7:
"Do not be anxious about anything, but in everything by prayer and supplication with thanksgiving let your requests be made known to God. And the peace of God, which surpasses all understanding, will guard your hearts and your minds in Christ Jesus."
Just sign up below and you will get instant access to the download (even if you are already a subscriber)!
All Scripture is quoted from the English Standard Version (ESV) translation.
Download Here:
Click the image to get access to download each image: