Ephesians 2:10 Computer & Phone Background Images
Well it took me to October of this year to get behind on posting these scripture background images. I think that's a win in my book 😉
I apoligize to everyone who has been waiting for this. October was nuts! We hosted our annual Homemaking Ministries Online Conference. It was a BLAST but also took every single second of my time and attention.
But I think the wait was worth it, I love the colors and the verse of this month's background image. You can download it for free for your computer, phone, and/or tablet below.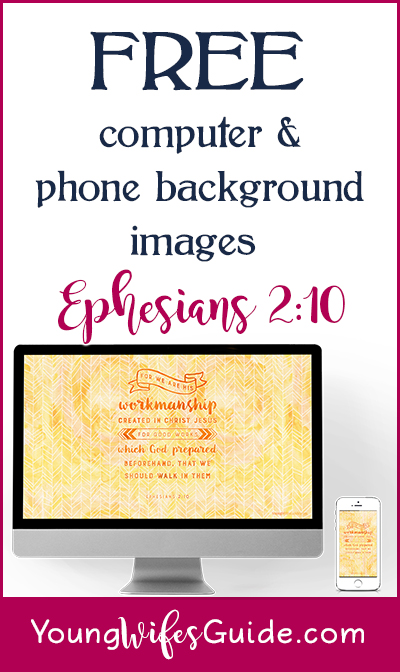 Every month of 2016, I've created a new Scripture background image for you! Want to memorize another verse? Check out my other background images: (And don't worry, these are not year specific. Feel free to use them into 2017 and beyond!)
Join me this month in memorizing Ephesians 2:10:
For we are his workmanship, created in Christ Jesus for good works, which God prepared beforehand, that we should walk in them.
Just sign up below and you will get instant access to the download (even if you are already a subscriber)!
All Scripture is quoted from the English Standard Version (ESV) translation.
Download Here:
Click the image to get access to download each image: